Round 2 provides strategic investments in flood risk reduction projects that align with federal grant requirements, as well as project design support for local and regional partners.
ROUND 2 PROJECT FUNDING AND ASSESSMENT
This is a $100 million project funding and assessment opportunity for local and regional public entities. To be eligible for funding, projects must benefit low- to moderate-income communities. Projects that benefit the most impacted and distressed parishes from the 2016 floods will be a funding priority. The state will provide feedback to applicants regarding their projects, including those ineligible for funding.
Pre-Application Webinar
The state is hosting a webinar at 1 p.m. Feb. 13 to provide more details on Round 2 and the pre-application process. Click here to register.
Design Support Program
This $100 million program provides technical assistance for projects submitted in Round 1 that did not receive funding. The focus is on projects that benefit HUD-identified most impacted and distressed areas and low- to moderate-income populations, as well as projects that incorporate nature-based solutions.
For more details, see the Program Policies and Procedures.
| Event | Date |
| --- | --- |
| Applicants notified of project scoping opportunity | Aug. 19, 2022 |
| Deadline for applicants to respond with Notice of Interest | Aug. 29, 2022 |
| Project scoping and design support begins | September 2022 |
| Project scoping completed, project reviews begin | October – December 2022 |
| Implementation awards announced, agreements executed | Early 2023 |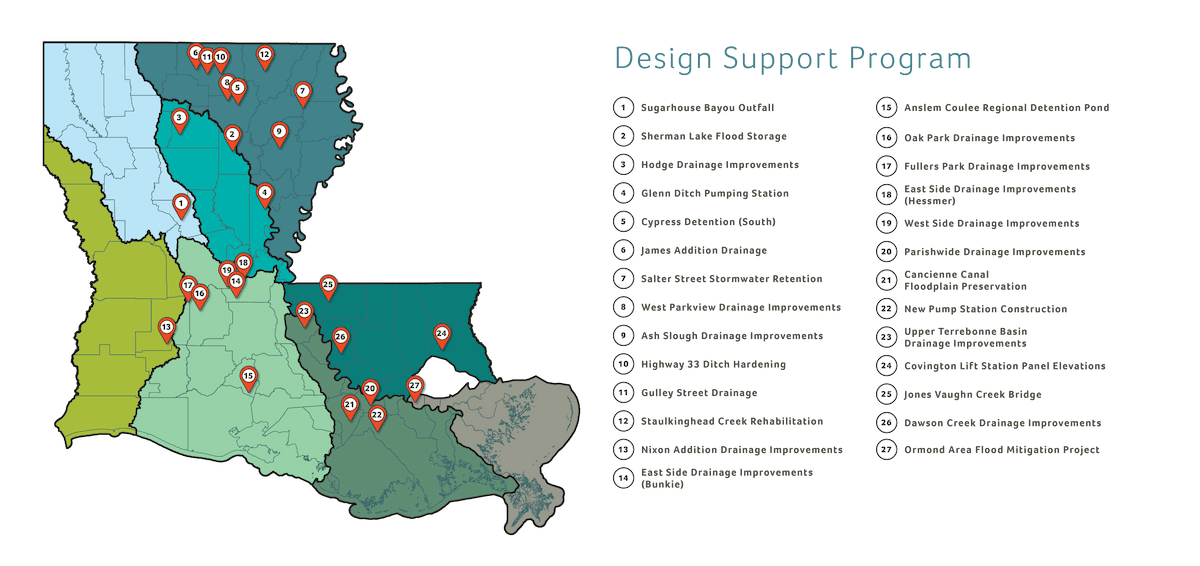 Design Support Program Projects
View the Design Support Program projects including applicant organizations, regions and estimated budgets.
| Project Name | Organization | Region | Estimated Budget |
| --- | --- | --- | --- |
| Sugarhouse Bayou Outfall | Town of Colfax | 1 | $1.36 million |
| Sherman Lake Flood Storage | Town of Columbia | 2 | $5.98 million |
| Hodge Drainage Improvements | Village of Hodge | 2 | $1.57 million |
| Glenn Ditch Pumping Station | Town of Jonesville | 2 | $1.96 million |
| Cypress Detention (South) | City of West Monroe | 3 | $1.28 million |
| James Addition Drainage | Town of Farmerville | 3 | $1.5 million |
| Salter Street Stormwater Retention | Town of Delhi | 3 | $3 million |
| West Parkview Drainage Improvements | City of Monroe | 3 | $3.25 million |
| Ash Slough Drainage Improvements | Franklin Parish | 3 | $3.87 million |
| Highway 33 Ditch Hardening | Town of Farmerville | 3 | $2.3 million |
| Gulley Street Drainage | Town of Farmerville | 3 | $1.26 million |
| Staulkinghead Creek Rehabilitation | Morehouse Parish | 3 | $5 million |
| Nixon Addition Drainage Improvements | Town of Kinder | 4 | $3.57 million |
| East Side Drainage Improvements | City of Bunkie | 5 | $3.66 million |
| Anslem Coulee Regional Detention Pond | City of Youngsville | 5 | $3.56 million |
| Oak Park Drainage Improvements | City of Oakdale | 5 | $10.3 million |
| Fullers Park Drainage Improvements | City of Oakdale | 5 | $6.9 million |
| East Side Drainage Improvements | Village of Hessmer | 5 | $2.25 million |
| West Side Drainage Improvements | City of Bunkie | 5 | $2.7 million |
| Parishwide Drainage Improvements | St. James Parish | 6 | $814,244 |
| Cancienne Canal Floodplain Preservation | Assumption Parish | 6 | $4.29 million |
| New Pump Station Construction | Lafourche Parish | 6 | $1.59 million |
| Upper Terrebonne Basin Drainage Improvements | Upper Delta Soil & Water Conservation District | 6 | $9.17 million |
| Covington Lift Station Panel Elevations | City of Covington | 7 | $2.6 million |
| Jones Vaughn Creek Bridge | West Feliciana Parish | 7 | $1.4 million |
| Dawson Creek Drainage Improvements | East Baton Rouge Parish MOHSEP | 7 | $8.26 million |
| Ormond Area Flood Mitigation Project | St. Charles Parish | 8 | $6 million |